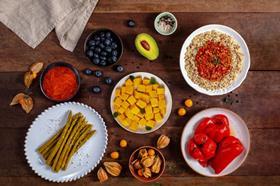 Fruitnet talks to Luis Bernardo Muñoz, PromPeru's commercial economic advisor in New York, about the meteoric growth of Peruvian fruit and vegetable exports to the US under the iconic national brand.
The Covid crisis has exposed the strengths and limitations of the fresh produce supply chain over the past 18 months. What factors do you think will influence the market and demand for fruit and vegetables?
Luis Bernardo Muñoz: This has been a very complicated and difficult year due to the way in which producers and the entire supply chain has had to adapt to the pandemic and the many health, logistical, administrative and financial limitations it has brought. However, it has shown its strength and resilience and we hope that the mistakes made last year will have been corrected and that the increase in production and exports can be maintained.
Being able to develop disruptive and agile marketing solutions has been a decisive factor, which is why the Expoalimentaria trade fair, which took place virtually this year in early October, helped many importers and exporters to negotiate working solutions to existing problems.
The main factors that will affect the current season are undoubtedly the logistical difficulties we face, and the fluctuation of the exchange rate. A lot will also depend on how quickly and efficiently the Peruvian government call roll out its vaccination programme, particularly to people in the main producing regions.
You mention the logistical challenges facing exporter, one of which is the severe shortage of containers. Given that Peru depends one hundred percent on maritime cargo to reach its markets, to what extent do you think it will affect exports in the coming months and what measures can be taken to mitigate these problems?
LBM: The logistics problem is global and all markets are affected, but we trust that the bottlenecks that are currently affecting the entire international supply chain can be solved. The virtual meetings held during the Expoalimentaria 2021 trade fair have led to the closing of supply programmes. This has helped provide a projection of volumes and containers, which is vital when sitting down to negotiate with the shipping companies.
In the coming months there will no doubt be difficult times and capacity reductions, but since we're talking about refrigerated containers and these have a higher value, they will be given priority in the shipments that are available.
Tell us about how Peruvian produce exports to the US have evolved over the last five years.
LBM: We've seen constant growth in the market –grapes have recorded double-digit growth, mango shipments have risen 25 per cent, while mandarins, ginger and asparagus also continue to make steady gains. But blueberries are undoubtedly the star product, exports having doubled in the past three years alone in spite of the difficulties that arose with the US government.
Once again, I want to highlight the work that has been carried out between Peruvian and American businessmen to be able to seek joint solutions and join forces in improving business relations.
It is worth highlighting the impact that the success of blueberry has had in terms of paving the way for medium-sized companies to enter the US market. That is why meetings during international fairs such as Expoalimentaria are essential to increase the presence of more international businesses.
The Superfoods from Peru brand has been crucial to Peru's expansion in markets such as the US hasn't it?
LBM: A lot of time and effort has gone into developing this umbrella brand, that we call our national brand. It is one of the most internationally recognised brands, despite having been launched just ten years ago.
In order to further its development, we're now focusing more on sectorial brands such as Superfood, Alpaca del Perú, Pisco Spirit of Peru etc.
Nowadays, as a result of the pandemic, people are much more aware of healthy products with a high nutritional value. The Superfoods from Peru brand has allowed us to differentiate our offer and is becoming increasingly well known among importers and consumers.
In just a few years, Peru has gone from being the new kid on the block to an established supplier of fruit and vegetables to global markets. What should Peruvian companies do to avoid the commoditisation of their products, especially in categories such as blueberries, citrus and avocados?
LBM: Aside from their quality and value, one of the key differentiating factors of Peruvian products is the social, environmental and economic impact they have on the local population. Peru has been very successful at highlighting the heritage of its fruit and vegetables and promoting its national cuisine. We work hand in hand with Peruvian chefs all over the world, promoting their restaurants and showcasing our gastronomy. This will no doubt be one of the main factors in helping us continue to position our products in global markets.