Federico Beltrán, general manager of Terra Business, explains why this is a pivotal moment for the evolution of the industry
Peru will reach its peak in terms of blueberry acreage this year before entering a phase of varietal replacement that will see the growth in planted area slow down, according to Federico Beltrán of consultancy Terra Business.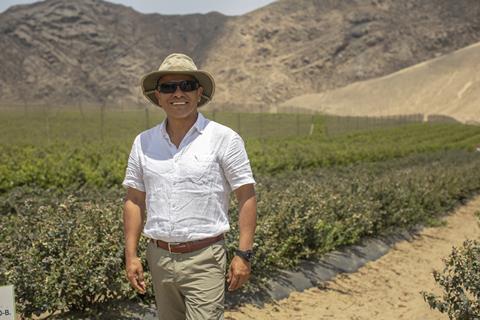 In an interview with Red Agrícola, he said while global blueberry demand continues to grow, Peru's challenge is to adapt its genetics so that it can satisfy the quality demands of the international market.
"What we will see will no longer be an annual growth of approximately 2,00ha of new blueberry acreage, as we've had up to now, but rather an aggressive varietal replacement programme at a rate of 500-1,000ha per year," Beltrán said.
"I forecast that companies will continue to focus on improving the quality of their offer and optimising their unit costs by switching to more intensive and efficient production systems in limited resources such as water."
Biloxi and Ventura together account for around 60 per cent of Peru's the varietal offer. However, there are 50 varieties planted in the country, these coming from 12 genetic programmes and eight active clubs.
"Access to modern genetics and new production technologies have been the main tools through which Peru managed to reverse its image as a producer of fruit with a high level of acidity and low calibres," Beltrán said, adding that "currently, the quality of the Peruvian fruit supply is positioned as one of the best in the world".
Beltrán noted that sector has made significant progress in extending its harvesting window, and increasing its offer of organic blueberries, which now account for almost 15 per cent of Peru's production volume.
Beltrán estimated that by the end of the first quarter, Perú will have exported 285,000 tonnes of blueberries, grown on around 20,000ha spread across 10 regions. The bulk of production (70 per cent) is located in La Libertad and Lambayeque.
"The comparative advantage of harvest seasonality coinciding with the windows of opportunity is no longer sufficient in the face of a greater global supply of quality, throughout the year," Beltrán continued.
"Windows no longer exist. The development of competitive advantages based on positive differentiation, continuous quality improvement, logistics and competitive unit cost is the key now.
"On the other hand, an important challenge and opportunity to take advantage of the greater world demand for blueberries through the diversification of new markets and greater penetration in current markets."