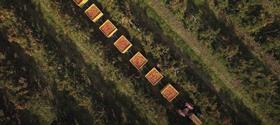 Non-profit association Pink Lady Europe has presented all the specific steps and actions outlined in its Pink Lady Europe Commitment Charter at this week's Fruit Logistica in Berlin.
According to the association, it is going 'far beyond' its marketing remit, demonstrating 'real environmental and social responsibility'.
'Sustainability in the sense of the responsible treatment of people and nature ranks among the fundamental values of the association Pink Lady Europe,' the group outlined. 'The non-profit association is now setting out specific measures and targets for all growers, sorters and distributors of the popular apples in a comprehensive Commitment Charter. From now on, the very best quality and an improved carbon footprint will give consumers even greater certainty when opting for Pink Lady apples.'

The association said that it hoped the charter would improve sustainability along its entire value chain.
To achieve this, it is analysing and improving all processes along its production chain: from work in the apple orchard to packaging sites and distribution.
Pink Lady is also relying on the exchange of knowledge between growers, long-term partnerships with industry experts and continuous analysis of progress in all member companies, involving 100 per cent of its members in the new sustainability initiative.
From this month, Pink Lady apples will be offered in three new plastic-free packs in retail stores: a 100 per cent FSC-certified cardboard tray, a foil-sealed tray made of fully compostable materials and a compostable flow pack bag.
As part of the change in packaging, the blister packing trays used for the sale of single apples are already made of cellulose.
'The association is thus responding to consumer expectations and underpinning its sustainability promise,' the group said. 'A further interim target for 2025 is the full traceability of each individual Pink Lady apple from the orchard to the retail store. This means that consumers will have complete transparency with regards to the origin and supply chain of their Pink Lady apples.'
Didier Crabos, president of the Pink Lady Europe association, described the common basis of members: "From the very start, Pink Lady Europe stood out from the crowd by respecting the interests of growers, distributors and consumers alike. The Commitment Charter is taking this forward and providing positive momentum for our global Pink Lady community."