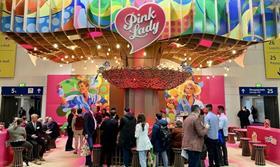 The Pink Lady Europe association is highlighting its sustainable goals at this year's Fruit Logistica in Berlin, as well as the current and future projects that support them.
This year, inspired by its new partnership with the Ligue pour la Protection des Oiseaux (LPO) – the French league for the protection of birds – Pink Lady is highlighting its commitment to the preservation of biodiversity with a giant nest at the heart of its 88m2 cardboard stand.
'This is an opportunity for the members of the Association to present the actions that reinforce the sustainability values of the entire network, and to support the commitments of the Pink Lady Europe charter,' the group noted.
Based on the pillars of sustainable development, the charter supports four key areas: the preservation of the environment; the development of territories; support for growers; and the relationship with consumers.
In addition, Pink Lady Europe has relaunched its Adopt-a-Tree campaign, which aims to bring consumers closer to growers by following the development of an apple tree and harvesting its fruit.
The operation, which was launched in March, is available in seven European countries this year.
Despite a reduced harvest due to severe frost in April 2021 (175,000 tonnes in 2021/22 versus 205,000 tonnes in 2020/21), Pink Lady Europe sold 121,000 tonnes in week 11.
To date, Germany, the UK and France are the three largest markets with 28,510 tonnes, 24,913 tonnes and 16,590 tonnes of Pink Lady sold respectively.