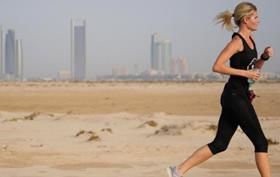 Described as "the world's richest road race', the Standard Chartered Dubai Marathon is set to take place in Dubai on 25 January, with Pink Lady sponsoring what will be the 20th edition of the 10km race.
The event brings together more than 30,000 seasoned athletes, as well as aspiring amateurs of all ages, walks of life and nationalities. All participants will be offered a Pink Lady apple on completion of the race.
"Pink Lady is delighted to be associated and supporting a healthy and active lifestyle in Dubai and beyond," said David O'Brien, managing director of LucaZara, which manages the Pink Lady brand in the Middle East. "As product sponsor for the Dubai Marathon, this is Pink Lady's biggest promotional endeavour in the region."
O'Brien said that LucaZara was delighted to have the opportunity to present the Pink Lady apple before, during and after the marathon, as well as using social media, signage and brand placement to promote the brand around the time of the race, including free online competitions for participants.
The priority, according to O'Brien, is to ensure a quality, delicious and healthy Pink Lady apple is available to all participants in the race.