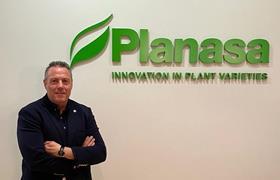 Planasa has appointed David Ortiz as managing director, EMEA, with the aim of developing the strategic plan that the company has set for this region.
Ortiz brings more than 20 years of experience in the agri-food sector, the last eight of which include various management roles within large such as Primaflor and G's.
He said he looked forward to opportunity to continue growing professionally and on the other hand being able to be part of a large company, in full growth and development and in which the core is focused on R&D.
"I am personally convinced that companies that invest and focus on R&D are capable of creating much more added value," he added.
With regard to the management of the R&D business units and nurseries, Planasa's main activities, Ortiz noted: "without a doubt it is a part of the value chain that attracts me a lot and in which I must deepen.
"Fortunately, Planasa has a great team of professionals that I am sure will help me manage and make the best decisions to achieve the objectives that we set ourselves. "
Planasa is an international leader in the agri-food sector specialised in varietal development (especially berries), nurseries and fresh products. With more than 1,500ha of land, it is one of the largest nurseries in the world and the world's leading producer of fresh endives.