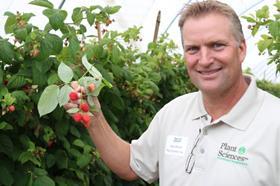 Californian soft fruit breeding specialist Plant Sciences has put down new roots in Europe as it looks to meet demand for new berry flavours and better shelf-life.
The company, which has been active in the European market for many years,is aiming to grow further in the region following the launch of a new subsidiary, Plant Sciences Europe.
With various breeding programmes in the region sowing the seeds of new opportunity for the group, it already has plans in place for various programmes offering new varieties, improved flavours and extended shelf-life.
Speaking exclusively in the latest issue of eurofruit, group president and chief executive Steve Nelson said the decision to establish a new bridgehead for the California-based company in Europe was about proximity to new commercial opportunities.
"While we have long served the European continent from the States, our intention is to move closer to the market and to our customers," he commented.
"The establishment of Plant Sciences Europe BV, under the management direction of Daniel de Vogel, will enable us to respond more effectively to opportunities and challenges in the European marketplace."
Open plan
Several of those opportunities appear to lie in the development of so-called 'open market' breeding.
Historically, Plant Sciences' berry varieties have made it into the commercial arena under limited licensing arrangements, with individuals or groups of grower-shippers paying a premium to use them.
While Nelson is eager to point out that this model continues to perform well, his company have decided to structure its business in Europe in such a way that it offers varieties to the "largest audience possible" at the most competitive price.
"Given the price pressures that producers, marketers and retailers are under, we sense that such an approach is needed to remain most viable going forward and bring new varieties forward to the broadest market," he explained.
So could such an open model disrupt the club approach used in the last 20 years? Nelson believes not.
"We expect these models to be complementary. Existing clubs will remain in place and those that are part of our club model will also have full access to a growing portfolio of premium varieties at open market licensing and royalty rates."
Strawberry, raspberry and blackberry varieties belonging to Plant Sciences are all reportedly being screened throughout Europe now, and the company expects to begin testing black raspberries and blueberry selections soon.
Global Berry Congress 2017 takes place on 27-29 March in Rotterdam. More information at berrycongress.com