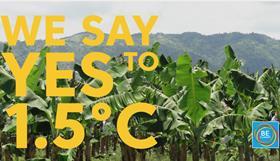 Hamburg-based fresh fruit importer Port International has outlined what it has called an 'ambitious target' to reduce its emissions by 50 per cent by 2030 compared with 2018, which it has said underpins its commitment to its sustainability strategy.
In early 2021, it publicly pledged to achieve the goal by joining the Science Based Targets initiative, bringing Port International in line with the science-based target of limiting global warming to 1.5 degrees C.
Port's annual carbon footprint includes not only the direct and indirect emissions caused by the company, but also the indirect emissions from upstream and downstream processes in the supply chain.
The company has been a climate-neutral company since 2017, and made a 'clear commitment to climate protection' in 2019 with the launch of its Be Climate brand.
The Be Climate brand was launched to effectively support climate protection. The range started with climate-neutral Be Climate bananas, followed by strawberries, leaf clementines and blueberries. Since then, the range has steadily been expanded.
The calculations
For all climate-neutral products, Port International said it calculated and offset the carbon footprint in collaboration with ClimatePartner, a specialised company, using a 'cradle to customer plus waste' approach.
According to the company, the footprint included cultivation, packaging, ripening (if relevant), transport to stores and disposal. This was done, as far as possible, using primary data from the entire supply chain.
In the case of cultivation, for example, not only the quantity of fertilisers and pesticides used was recorded, but also transportation from the producer to the field.
Port noted that it also took a holistic approach to packaging, documenting all materials produced, including weights and the logistics behind them.
The carbon footprints were drawn up in accordance with the Greenhouse Gas Protocol (GHG Protocol) in order to be able to tell clients and consumers how much emissions a product realistically generates and how they can be reduced.
Motivating its partners
Port commented that an essential part of the process was to also motivate partners to look for innovative and climate-friendly alternatives so that emissions are reduced to a minimum along the entire supply chain.
Since the launch of the brand, it outlined, various projects had already been implemented. These included the installation of solar panels to generate green electricity in the production facilities, the electrification of various processes from the packhouse (origin) to irrigation and container handling in the destination country, the planting of trees and creation of new green spaces, and the switch from cars to bicycles and public transport.