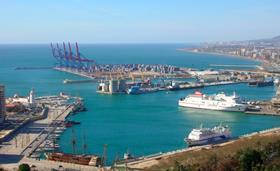 The Port of Almería is to launch a new service to transport of fruit and vegetables to the port of Portsmouth in the UK. Announcing the move at a conference on short distance maritime transport and sustainability, the Port Authority of Almería (APA) said the service would begin next autumn.
APA president Jesús Caicedo said the first ship would transport around 280 trucks loaded with perishable products from the province to the UK.
The conference was organised by the APA and the Spanish Association for the Promotion of Short Distance Maritime Transport (SPC-Spain) to analyse the competitive and sustainability advantages of short-sea shipping, the so-called 'motorways of the sea', between Spain and Europe and North Africa.
Caicedo said the project was "economically and environmentally viable" and had received a high level of interest in transporting produce from Almería to the UK, France and other destinations by sea.
He noted that short-sea services provide a complementary option to road transport, helping to reduce the carbon footprint generated by heavy traffic congestion at border crossings.
A total of 16,000 tonnes of fruit and vegetables were exported by sea from Almería in 2020, equivalent to just 0.5 per cent of the total volume shipped.
The main destinations were Canada, Morocco and the UAE. Although still modest, this represents an increase of 174 per cent in the last decade.