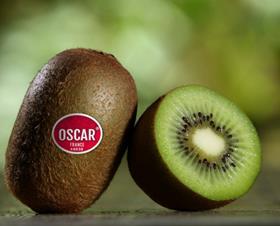 Leading French kiwifruit exporter Primland has seen its export capacity bolstered by the arrival of Nérac-based cooperative Cadralbret, which joined Primland last year, increasing the group's potential volume to 16,000 tonnes a year.
The company supplies kiwifruit under various brands, including Oscar, Oscar Gold and, from this season, Oscar Red. Meanwhile, Primland marketed more than 50,000 trays of its "ZPR" (Zero Pesticide Residue) kiwifruit in 2019, with plans to sell 150,000 units in 2020.
According to Primland, French consumers are increasingly demanding national products, as shown by a Kantar Wordlpanel study from 2018, which revealed that 86 per cent of consumers familiar with "Made in France" labels were drawn to products bearing such labels.
In response, Primland has updated its packaging for Hayward kiwifruit grown in France, adding a French flag to the design.
Last year, Primland made sales of €3m on Nergi, the company's baby kiwifruit line, thanks to at least 1,200 tasting events across Europe.
Germany remains the market leader for Nergi, accounting for half of total sales, thanks to sustained advertising investments, including store promotions, awareness-raising campaigns in the mainstream media, on TV and radio, and carefully-crafted partnerships with leading retailers.
A study of German consumers by BVA last year revealed a significant rise in awareness of Nergi over the past three years, from 35 per cent in October 2018 to 43 per cent in October 2019.
For both Nergi and Oscar, Primland is relying on closely-monitored digital communication to provide information to consumers and to relay promotional operations carried out by the company and by organisations such as Interfel.
"It is for this reason that a team of 12 Community Managers, coordinated internally, manages in each country the brands' various social media sites and adds content (recipes, articles) to the websites," the company revealed.