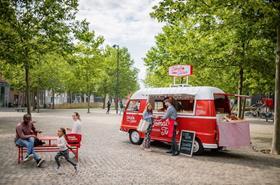 In the Netherlands, the Prominent tomato brand has taken to the streets to highlight the versatility of the fruit.
As part of a new commercial, Prominent has hit the road with a pop-up restaurant to show that tomatoes can be eaten at any time of day - something that many consumers do not realise.
'We thought it was about time to change this situation,' said Wim van den Berg, marketing manager at brand owner Door Partners. 'For our new commercial, we went on tour with our very own pop-up restaurant 'Tomato Times' to surprise consumers with some wonderful tomato treats at unexpected moments.'
The 'Tomato Times' commercial shows how the Prominent brand introduces consumers to the idea that they can enjoy the versatility of tomatoes all day long.
'Our strategy focuses on the consumers themselves,' van den Berg continued. 'We were convinced that teaming up with our partners could offer them more occasions throughout the day to enjoy tomatoes. And what better way to inspire them than by our new commercial? From a morning boost to a late night snack, from a mid-day salad to finger food. There's a tomato for any time of day.'
The commercial is part of the 'We challenge you' campaign that was launched at the end of 2019 during the Tomato Congress in Rotterdam.
'Together, we face the challenge of having more consumers enjoy our tomatoes at various times throughout the day,' he added. 'More enjoyment, more vitamins and more energy. In short, a healthier life. It's a great mission that we've summed up in one simple sentence: We challenge you!'