€10m investment enables new export push as Greek exporter prepares to handle more than 20,000 tonnes of fruit this season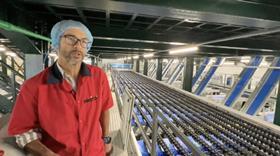 Greek grower-exporter Protofanousis is due to open Europe's largest kiwifruit packhouse at the beginning of November.
The company has invested around €10m in the new packing and coldstorage facility, which has been purpose-built to handle more than 20,000 tonnes of kiwifruit.
Its opening should position Greece even more securely as a dependable source of kiwifruit.
"This investment is a sign of our confidence in the future of Greece as a major supplier of quality kiwifruit in the Northern Hemisphere season," says George Kallitsis, commercial director, in a video interview with Fruitnet's Chris White.
Protofanousis has its headquarters in Thessaloniki in northern Greece. Over the last decade and more, the company has developed a significant position in Greek kiwifruit as well as table grapes and cherries – all sourced from prime growing areas in northern and central Greece.
"Greece has always been a very big grower of fresh fruit, but its exports have always fairly insignificant," explain Kallitsis. "Our focus at Protofanousis is on export markets where we position ourselves as the best supplier of high quality fresh fruit."
Its multi-million euro investment in the new packing and storage facility for kiwifruit reinforces this strategy. The new packing line features a 12-lane sizer and is equipped with the latest optical technology for pressure, colour, and skin defects.
"It means we can pack for quality and be more flexible through the season," says Kallitsis. "This new facility triples our capacity to 30 tonnes per hour. It means we can pack more efficiently and more effectively to meet all of our customers' specifications."
International outlook
Kallitsis joined the business 20 years ago. In that time he has helped Protofanousis to search for new markets outside Europe. These export sales now play a very important in the company's commercial model.
"The strength of the US dollar means there is even more interest for our kiwifruit in North America this season," he says, "and we are also looking forward to more business in south-east Asia too."
Protofanousis says it will grow more yellow kiwifruit in future. Zespri chose it as one of three partners in Greece to develop Sungold. But Zespri has now decided to scale back its trials in the Northern Hemisphere. So Protofanousis wants to plant other yellow varieties.
"There is great potential for yellow kiwifruit," says Kallitsis. "We will plant other varieties to ensure we can meet demand."