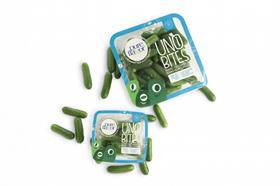 Pure Flavor is promoting its Uno Bites Nano Cucumbers as the perfect healthy snack for kids as Americans get ready for the new school year.
The company said its super small, one-bite cucumbers, available in both Dry Pint and 1.75lb packages, offer a convenient way for busy parents to boost their children's vegetable consumption and improve their health and immunity during the pandemic.
"Parents want to pack healthy vegetables in their kids' lunch boxes every day of the week, but they often struggle to find convenient, hassle-free options," said executive vice-president Matt Mastronardi.
"With Uno Bites, we're providing a nutritious product we know kids love in resealable, and recyclable packs - you can snack right out of the pack."
The emphasis on convenience is backed up by survey data from Pure Flavor's#LoveForFresh campaign in late 2020.
The brand surveyed hundreds of people across North America and found that more than 88 per cent agree convenience is important to them when purchasing healthy snacks, while 78 per cent said they would eat more healthy snacks if they were more readily available.
"We want to make healthy snacking options available to all parents across the country this school year." said Mastronardi. "We don't think a lack of convenience or availability should be a barrier for kids to maintain a healthy diet, so we've increased production for Uno Bites to meet increased demand this Fall & Winter season."
To highlight the versatility of the bite-sized cucumbers, the company has packed its social media feeds with recipesaccording to chief marketing officer Chris Veillon.
"We grow four different types of cucumbers and each one has specific flavour pairings, recipes, and uses that make it unique," said Veillon. "If you think all cucumbers are the same, think again – that's what we're showing with all the content we share."