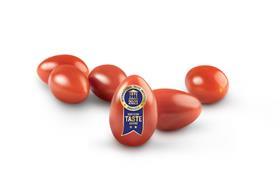 Canadian greenhouse vegetable grower Pure Flavor has launched a new bite-sized fruity tomato which it claims will be a game changer in the snack segment.
Cloud 9 was released following extensive product trials and consumer taste testing to help meet growing demand for flavourful options in this category, the company said.
"We taste hundreds of tomatoes every year searching for something special – unique colours, shapes, sizes, but most importantly flavour," said president Jamie Moracci.
"With fruit-like flavour, Cloud 9 is going to redefine what snacking tomatoes should taste like as an everyday item, not just as colour in a salad.
"We have created the Cloud 9 standard for quality and look forward to consumers enjoying this premium and hand-selected bite-sized tomato every day."
The tomatoes are grown in high-tech greenhouses in Canada, the US and Mexico and are available year-round from the beginning of February throughout North America.
"From the first bite, you know this will be memorable: it's a fresh snacking experience that comes from an unwavering commitment to quality," said executive vice president Matt Mastronardi.
"We hand-select a limited quantity of the most vibrant tomatoes so you can enjoy bold, balanced flavour that sweetens any snack or home-cooked meal," Mastronardi added.
Cloud 9 recently received a Superior Taste Award Certificationfrom the International Taste Institute in Brussels.
The Jury, made up of more than 200 renowned European chefs and sommeliers from over 20 countries, praised the tomato's sweetness, intense red colour and versatility.
"It's a strict process where all products are blind tasted, meaning that we do not see the packaging and do not know the brand name nor the producers'name. We don't even know which country the product comes from," said Stijn Roelandt,sous-chef at three Michelen-starred Hofvan Cleve restaurant and member of the International Taste Institute jury.
"This forces us to be completely objective as we do the sensory analysis. Only truly good products are certified."
The launch of a sweeter snacking tomato comes at a time when consumers are looking to enjoy a wider variety of healthy foods to eat at home.
"Cloud 9offers consumers a healthy new snack option that will make life's sweetest moments even sweeter, figuratively and of course, quite literally," Pure Flavor said.