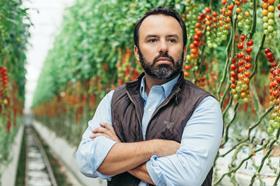 UAE-based agricultural technology company Pure Harvest Smart Farms has secured US$64.5m in a convertible financing round for its expansion in the Middle East, North Africa and Southern Asia.
The announcement came during the Future Investment Initiative taking place in Riyadh, Saudi Arabia.
The round was led by Korean private equity firm IMM Investments and coincides with a new joint venture between Pure Harvest and PlanTFarm, a leader in vertical farming solutions in Korea, to jointly design, build and operate indoor vertical farms.
The latest injection of funds brings the cumulative capital invested to US$271.6m, making it the largest investment in agricultural technology in the MENASA region.
In addition to accelerating expansion, the investment will reportedly assist in the company's technological development efforts.
Founder and CEO Sky Kurtz said he was "delighted". "This is a landmark funding for Pure Harvest for two reasons," he explained. "One is that IMM is one of the most respected and successful alternative investment companies in Asia, which shows the strength of our investment position; secondly, this company has a long history of investing in agriculture in controlled environments through successive investments in Farm8 and PlanTFarm, the leading agribusiness and vertical farming ventures in Korea.
"They understand the market opportunity and advantages of our solutions. IMM will generate tremendous value that will support our expansion in Asia. Most importantly, we share the same values ​​and vision of providing the world with a more resilient and sustainable food system."
Pure Harvest has three farms in the UAE for products such as tomatoes, leafy greens and strawberries, and is setting up two more sites in Saudi Arabia and Kuwait, which will increase the company's acreage to 18ha.
Hyun Chan Chu, IMM's representative, said the firm was impressed by Pure Harvest's "strong commercial viability and reliable production in one of the most demanding environments", especially at a time when the vulnerability of global supply chains has become clear.
Tariq Sanad, Chief Financial Officer at Pure Harvest, commented: "IMM's investment underscores the strong appetite of institutional investors to invest in agriculture in controlled environments in the MENASA region. We will use the proceeds from the investment to finance our existing projects in the GCC, drive research and development initiatives, expand our team, and at the same time establish a foothold in Asia."