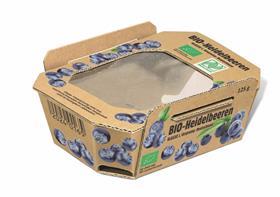 This year has proved to be a very successful one for Sofrupak, the Poland-based company specialising in eco-friendly cardboard packaging for fresh produce.
The group has enjoyed "dynamic development", according to commercial director Adam Sikorski, driven by a number of factors including a growing pro-ecological movement among consumers in the EU, retail chains forcing suppliers to use greener packaging, and an increase in the consumption of organic produce.
Sikorski notes that Sofrupak had, from an early stage, anticipated the coming ecological trends and has prepared well to understand the needs of consumers.
Thanks to the developments it has undertaken, the company is now able to offer the "most ecological packaging on the market", with the benefits picked up on by retailers such as Biedronka (Poland), Lidl (Germany) and Veritas (Spain) – all stores where you can buy organic strawberries and blueberries from this year.
"Listening to the requests and needs of the largest fruit suppliers for the 2020 season, we are preparing a modified packaging with an integrated lid," he outlines. "It will be compatible with automatic fruit filling and automatic closing. We are already ordering new machines, which are built to individual quality and quantity requirements."
At this year's Fruit Attraction in Madrid, Sofrupak will be presenting its latest packaging series, complete with a lid – SoFruMiniPak EcoView. According to the company it is the first 100 per cent closed packaging on the EU market with a separate lid, that is dedicated to fruit.
"For the production of this packaging we used two ecological materials, corrugated cardboard and cellulose film," Sikorski continues. "It was possible thanks to our innovative technology that combines these raw materials – CelluloseCoatedCardboard (CCC), which is currently in the patent stage. The materials used allow the entirety of the packaging to be recycled like paper, while also being biodegradable and home compostable.
"The advantages of SoFruMiniPak EcoView packaging are that it is easy and quick to close, so does not require expensive machinery; you can adjust the packaging size to meet individual needs; and that it is an alternative to packaging made from PET, matching current European trends."
Looking ahead, the company has big plans, and not just in the fruit and vegetable packaging business. In terms of markets, the EU remains the most important, but Sofrupak is also looking for partners in Asia. "At the moment we are a recognised producer of innovative packaging for berries, and we want to become the European leader in ecological packaging in the near future – and not only in the fruit and vegetable industry," Sikorski adds. "The cooperation with our business partner Smurfit Kappa Polska is also very important for us.'