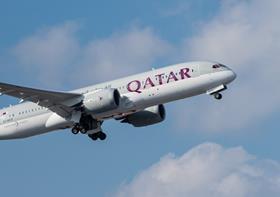 Two weeks ago, several countries in the Middle East, including Saudi Arabia, the UAE, Bahrain, Egypt and Libya, cut ties with Qatar, causing concerns about shortages of food products.
However, despite a single report of a shortage of coriander at one Carrefour outlet in Qatar, and early stories of panic-buying consumers, shelves have remained well stocked, according to those on the ground.
The continued stability on the market is partly due to an increase in arrivals from countries including Iran, Turkey, Morocco and Oman, although new trade routes may be longer and more costly.
Equally important is the fact that the countries involved in the ban are largely importers as opposed to exporters.
"Most of the Arab countries that have cut or limited their relations with Qatar are not fresh produce suppliers or exporters," says Nooshin Mohammadali, marketing executive and quality manager at Iranian trader Zarrin Group. "Like Qatar, they are mainly importers. So Qatar will not face problems importing fresh produce from other Arab countries. It is rather that Qatar has limited borders and limited access to the sea, and relies heavily on imported food through its land borders with neighbouring Arab countries. Now Qatar may face a major problem with this."
Qatar is estimated to import around 90 per cent of its food, much of it through a single land crossing with Saudi Arabia.
Iran has granted permission to Qatar for the use of the nations' common water border in the Persian Gulf and allowed Qatar Airways to use Iranian airspace since the enforcement of restrictions from Saudi Arabia and UAE.
Although some analysts perceive the situation as an opportunity for Iran to claim a greater share of the Qatari market, Mohammadali expects trade to remain largely unchanged.
"Iran has always been a supplier of various fresh produce items to Arab countries," she said. "To Qatar, we send good supplies of apples, watermelons and sometimes tomatoes, and we think this trade will continue as before."
Jordanian exporters has had to rely on airfreight to reach the market, with the result that volumes have been massively reduced.
According to the president of the Jordan Exporters and Producers Association for Fruit and Vegetables, Saadi Abu Hammad, 90 tonnes of produce are being flown daily to Qatar compared with around 400-600 tonnes prior to the closure of Qatar's land borders.
The ban is seen by Jordanian exporters as a further blow to the country's agricultural sector, the Jordan Times reported, following the closure of access to Iraq and Syria in recent years and the UAE's embargo on certain Jordanian products this year.