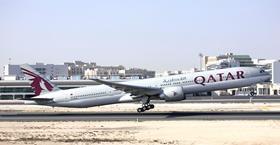 Last week, the first flights from Egypt and the UAE landed in Qatar since the official end of the three-and-a-half-year diplomatic and economic blockade of Qatar. Flights from Saudi Arabia, which had led the blockade, resumed the week before.
The rapprochement is timely given the economic situation in the Gulf, with trade between the Gulf nations set to receive a boost.
In the first days of the boycott in June 2017, panic-buying led to shortages of imported items in grocery stores in the Qatari capital, Doha.
The desert country is the most water-stressed in the world, with over 90 per cent of food supplies imported, including 85 per cent of its vegetables, according to the Chatham House think-tank.
Prior to the blockade, around80 per centof its imported food needs were met by its neighbours, mainly the UAE and Saudi Arabia.
Qatar had been reliant on overland supplies from Saudi Arabia for 40 per cent of its food imports, including fresh fruit and vegetables coming from the EU, Turkey and Jordan.
New trade routes by sea and air have opened up, in particular with Iran, Turkey and Pakistan. The blockade has also forced Qatar to reduce its dependence on food imports.
Domestic organic producer Agrico has massively boosted its volumes, according to general manager Nasser al-Khalaf, and the company has plans to develop 100ha of land over the next three years in order to support local farms and increase local production.
The company employs hydroponicfarming at its greenhouses, applying a nutrient-rich solutionto the roots of the plant instead of the soil, and closely controlling humidity, temperature and sunlight.
According to Middle East Eye, Qatari consumers are now seeking out products that are made locally or that bear a 'Made in Qatar' label. As trade starts to resume, only time will tell what export potential the label has.