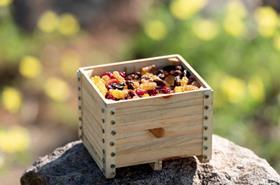 Raisins South Africa, the organisation representing 700 growers in the country, is aiming to communicate the many benefits of its product through a UK promotional campaign.
The campaign's objective is to not only educate the UK on South African raisins' unique selling points, but on the benefits of raisins in general and to debunk misconceptions about the negative impact that dried fruit has on our health, with emphasis on sugar content and dental health.
The International Journal of Food Sciences and Nutrition published an article in 2019 on 'Dried fruit and public health'. One of the main points made was that "all traditional, conventional dried fruits such as raisins have no added sugar and are formed by the removal of water." South African raisins are 100 per cent naturally sundried grapes.
'Raisins are a natural powerhouse packed full of nutrients, such as fibre, iron, calcium and antioxidants and are vital for a healthy lifestyle. Because most of the water is extracted from dried fruits their nutrients are concentrated.'
The study stated that: "The focus of public health advice is for the reduction of 'free sugars' rather than a reduction of total sugars, and since positive messages are more likely to help consumers, advice could usefully integrate both dried and fresh fruit to help a switch from confectionary and biscuits towards fruit, to help consumers consume a healthier diet."
The study also suggested that "raisins were not more detrimental to teeth than fresh fruit and vegetables".
Another study by Food and Nutrition Research suggested that "the intake of added sugars was lower in raisin consumers as it is likely that raisins replaced other sources of sugars and added sugars in the diet'.
The study also suggested that raisin consumption is associated with better nutrient intake, diet quality, 'and may be a marker for those who lead a healthier lifestyle".
Whilst a focus on public health is at the forefront of the campaign, Raisins South Africa also aims to promote their industry's point of difference to the UK market.
South African raisins are produced in the Orange and Olifants river regions, which is in the Northern and Western Cape respectively.
These regions experience exceptional levels of sunshine, on average 10.5 hours every day between January and March, which is when the fruit is harvested and naturally sundried.
The dry, sunny climate, along with the ample supply of water from the rivers, makes ideal growing conditions to produce the highest quality raisins with world-leading shelf life, colour and flavour.