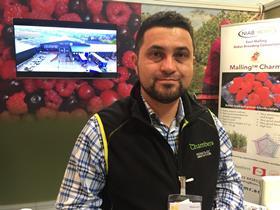 Spanish and Moroccan raspberry yields are down by as much as 50 per cent following a cold snap that has hit both countries and reduced supply to the UK.
There have been general shortages of raspberries and strawberries in the past three or four weeks, according to Salih Hodzhov, production director of British berry supplier Chambers.
"The weather we're seeing in Spain and Morocco at the moment is unusual," he said. "We were talking to some Spanish growers yesterday who said the fruit is on the bushes, it's green, but it just isn't ripening. They've got a big, big problem – in some cases, 50 per cent lower yields."
Referring to recent conversations with Spanish growers in Andalucía and Moroccan growers in the north of the country, he added: "The growers we work with in both countries are saying they've never seen seen low temperatures or such a difficult harvest.

"Even compared to last year, it's more challenging. Our growers were saying that last January they had quite a lot of fruit, but now it's an bit of a disaster really."
Chambers, which set up an import business called WB Chambers Imports two years ago, said it was having conversations with growers in Zimbabwe and Kenya, with a view to sourcing outside of Britain's traditional soft fruit sources in future.
"Maybe now we need to be looking at sourcing from other countries as well to make sure we've got constant supply," Hodzhov said.
Blueberry supply has been unaffected, he added, since the fruit is largely sourced from Chile and Peru at this time of year.