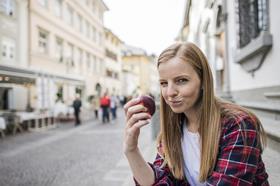 RedPop, a new branded apple produced by Italian consortium Vog and marketed under its consumer label Marlene, has gone on sale at the start of its first commercial season.
Around 1,900 tonnes of the variety, which is marketed as "little big sweetness", were harvested this year.
RedPop is described as an ideal snack apple – small in size and particularly tough, it is said to be suitable for consumers to take with them on any occasion.
According to Vog, its "firm flesh, crunchiness, and sweetly rich taste" make it a perfect response to the needs of modern consumers.
Its naturally long storage life, meanwhile, apparently makes it an ideal product to marketi during the second half of the European apple season.
"We have high expectations for this apple, given the very positive feedback from the first trials with customers and consumers last year," explains Klaus Hölzl, sales manager at the VOG Consortium.
"Thanks to its innovative characteristics, RedPop is an important extension of our assortment, which aims to offer the right apple for every need throughout the year."
Ready to pop
After last year's initial trials, the group's members harvested a large enough volume of excellent quality fruit this season to kick-start a first ever sales campaign for RedPop.
Marketing activities began in mid-March and are due to run until the beginning of June.
Sales will be supported by communication activities across industry media, as well as tastings in major food retail outlets and in fruit markets.
"RedPop by Marlene is landing on the market with a strong and distinctive position, supported by an effective brand and targeted communication initiatives," comments Vog marketing manager Hannes Tauber.
"We decided to present it through Marlene to help consumers choose with a brand that is very popular internationally and has always been synonymous with quality, taste, origin and well-being."
The new RedPop variety should make an immediate impression on consumers, Vog believes, thanks to its pop, eye-catching image, and a slightly streaked carmine red colour on a yellow background.
Juicy and firm, it also offers what the group describes as "an exuberant sweetness with intense, enticing aromas".