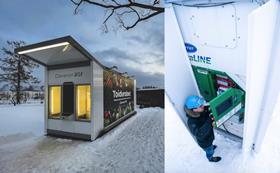 Robotic kiosks that provide automated and contactless dispensing of groceries for consumers are being sustainably refrigerated by Carrier Transicold NaturaLine units.
The units store perishables and now transfer groceries directly from retailer to consumer through an advanced kiosk made by Estonian robotics innovator Cleveron.
NaturaLine units are typically used on marine shipping containers to protect perishables and frozen food shipped between continents.
According to Carrier Transicold, they are the world's first container refrigeration systems to use the natural refrigerant carbon dioxide.
Convenient and touchless groceries
For more than a decade, Cleveron has developed "click and collect" automated solutions for a variety of applications, and the grocery kiosk is among its newest.
At a time when consumers' health and safety is the highest priority, the Cleveron 501 kiosk offers a convenient and touchless alternative to in-store shopping or pickup, as well as home delivery.
"We realised that combining refrigerated shipping containers and our robotics would enable us to create a product that is easy to transport and quick to install, and that also delivers solid cooling and withstands the forces of nature," said Mihkel Ilp, chief operating officer at Cleveron. "Carrier was selected as our preferred partner because of its long history in the field of refrigeration and shipping containers, and because Carrier offers the NaturaLine system with R-744 refrigerant."
Ilp added that NaturaLine's sustainability appealed to its customers, many of which are large multi-national grocery retailers with significant green initiatives, working toward carbon neutrality.
Customers place orders online and are given a time for pickup. The retailer then picks, bags and places frozen and perishable items in totes that the Cleveron 501 kiosk automatically stores in the appropriate temperature-controlled compartment.
When the customer arrives, a code is scanned from their phone, and the kiosk quickly dispenses their order.

To date, Cleveron 501 kiosks using Carrier Transicold's NaturaLINE units have been deployed throughout Europe in grocery/retail environments, while Cleveron 501 systems have also been deployed in the Middle East, Australia, New Zealand and the US.