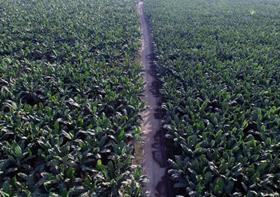 Leading Ecuadorean banana exporter Reybanpac has reached a new milestone in its commitment to the environment, obtaining carbon neutral certification within its banana operations.
"This certification is the result of our commitment to contribute to the mitigation of climate change," said CEO Vicente Wong. "The reduction in the emission of greenhouse gases should be a priority for everyone, including agribusiness."
The certification apparently covers the firm's 45 farms and nearly 7,000ha of plantations. To measure the overall carbon footprint, the entire production process had to be evaluated, from the nursery to delivery to the shipping port in Guayaquil.
According to Reybanpac, the audit confirmed that the company is successfully capturing the total CO2 emissions generated by its operations.
"We have been implementing good agricultural practices such as precision agriculture for some years," said Wong. "We are permanently focused on greater efficiency, therefore on optimising and reducing the use of resources and inputs.
"Our philosophy is to offer consumers a high quality fruit, which is also grown under strong standards of environmental and social responsibility. We will continue working not only to maintain carbon neutrality in our operations, but will seek to contribute more to reducing emissions."
One such initiative is the company's forestry plan of over 5,000ha, which contributes to climate action by helping to capture CO2 from the atmosphere.