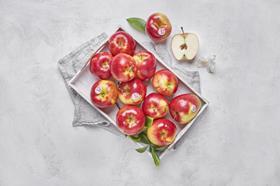 Piedmontese apple company Rivoira held a special press event at this year's Fruit Logistica to unveil the name of its extra sweet apple trio, Samboa.
Built on its 'Ripe on the Tree' quality concept, Luiza, Venice and Isadora are picked at optimum ripeness and fill the early, middle and late picking window respectively, meaning that they are available year-round.
Each variety shares a similar and "exceptional" texture and taste profile, resilience in warmer climates and outstanding storability. Extensive trials show they achieve average yields of 70-80 tonnes per hectare and a pack-out of more than 90 per cent.
Commenting on the branding, Gerhard Dichgans, who manages the project said: "It's not Samba, it's not Samoa, but rather a blend of Brazilian and Pacific Island joy, vitality and pleasure, reflecting the trio's Brazilian heritage, that evokes summer wherever you are or wherever you want to be".
Over the next ten years Rivoira plans to increase production from the current 200ha to more than 4,000ha worldwide through a global network of partners, building a new premium branded segment of super-sweet apples.
Outlining the marketing strategy that will underpin the new brand, Rivoira's CEO Marco Rivoira said the idea is to start small and build the campaign as volumes increase.
Rivoira also announced the launch of the Yellow Kiwi Project, which sees the Piedmontese team up with New Kiwiplant (NKP) to develop worldwide production of new Psa-resistant yellow-fleshed kiwifruit varieties.
Founded in 2008, NKP is a consortium of five companies – Greece's Fitotechniki and Zeus Kiwi and Italy's Vitroplant Italia, Tuttofrutta Quaranta and Zeolifruit – which holds exclusive access rights to the selections from the University of Udine's yellow kiwifruit breeding programme.
Rivoira explained, "as with our apple project, the goal is to develop not one, but many varieties that will help solve the problems facing growers of yellow kiwifruit today, most importantly Psa".
Rivoira said two varieties are already available and the first trials are showing very promising results in terms of eating quality.