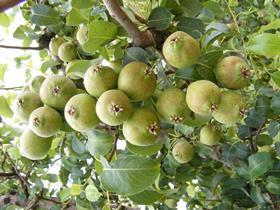 Exports of Portuguese Rocha pears reached €90m from January to November 2019, an increase of 16 per cent on the year-earlier period.
Domingos dos Santos, president of the National Association of Rocha Pear Producers (ANP), said the growth was due to work of producers and promotions in new markets.
One of the biggest customers for Rocha pears was German discounter Lidl. In 2014, a group of 14 producers formed an export consortium to supply the German retailer, and since then sales volumes have been growing steadily from 2,000-3000 tonnes in the first year to more than 10,000 tonnes in 2019.
During the season, around 32 trucks transport the pears from Portugal to Lidl's stores across Europe every week.
In the last three years the sector has invested €430,000 in a marketing campaign in Germany, Brazil, Spain, France, the UK, Peru and China. This has included taking part in several international trade fairs and organising a series of visits by journalists, chefs and bloggers to the main production area.
Promotional efforts also included providing Rocha pears to customers on 1,730 flights by national carrier TAP, and a poster campaign in the French capital.
A survey carried out by ANP at the end of the three-year campaign showed that most producers considered it to have had a positive impact on their company and the industry as a whole.
"The results have been very positive and demonstrate the importance of continuing with our promotion work at a time when profit margins are falling due to increased production costs and it is necessary to find new markets," said dos Santos.
The government is currently in negotiations to gain access to the Chinese, Ecuadorean, South African, Chilean, South Korean, Indonesian and Indian markets.
Having secured access to China for Portuguese citrus and grapes, the Agriculture Minister is due to travel to China later this year to advance the process for pears. ANP said it was also planning to carry out a promotional campaign in the market in November.
A total of 200,000 tonnes of Rocha pears were harvested last season, of which 60 per cent was exported. Morocco was the biggest market, followed by Brazil and the UK.
ANP has around 5,000 member growers covering an area of 11,000ha, equivalent to around 85 per cent of the national Rocha pear crop.