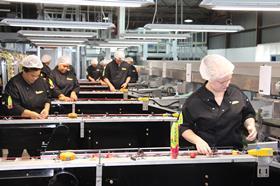 Havelock North Fruit Company has opened its NZ$17m (US$12.98m) state-of-the-art packaging facility for the New Zealand grown Rockit apple.
New Zealand's minister for economic development Steven Joyce was on hand to officially open the food facility on 18 March, which will be used to keep up with the growing global demand for the miniature apple.
"We've packaging miniature apples into tubes and created a premium price snack food, rather than apples that sit in a box at the supermarket," explained Havelock North Fruit Company MD Phil Alison. "I had a vision to create a global retail brand and through government support and investor funding we now have global license arrangements in over 30 territories and are blasting Rockit apples to the world."
Aside from offering a packaging boost for the fruit, the facility will also offer a boost to the local economy.
The new facility will employ 87 staff at its Havelock North location, in roles from finance and sales to marketing and logistics. The Havelock North Fruit Company joined forces with EIT Hawke's Bay and the Ministry of Social development to develop a pre-employment course, from which Alison hired all of the graduates.
Rockit apple are packed in a range of tube sizes and are exported to Asia, the US, New Zealand and the UK, and marketed as a premium food brand offering a snack alternative to chocolate bars and crisps.
"Obestity is a major health issue and by packaging the apple in a tube and creating some excitement around the brand, it's now a formidable alternative," Alison said. "Rockit will push the boundaries and intends to 'shake-up' the 'healthy snack market' globally."
The PremA96 variety, or Rockit, was developed by New Zealand Plant & Food Research and Prevar, with Alison taking the new apple variety on board in 2004. Alison said demand for the premium apple has jumped 700 per cent since 2013, with significant growth forecast in coming years.