This month sees a full Spanish crop before we turn our attention to the UK, where good availability and quality is expected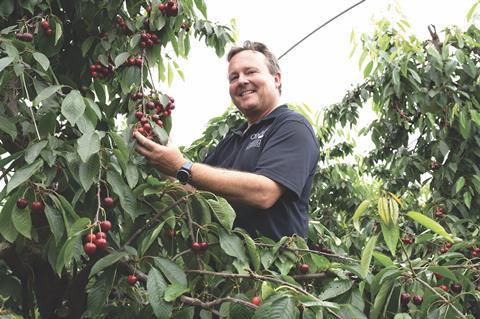 As the summer approaches, all eyes turn to what is a busy cherry season across Europe.
Norton Folgate started its Northern Hemisphere cherry season in early April from Spain with covered fruit from Glamour Cherries near Lleida. This has dovetailed straight into the main crop of Spanish fruit from Mequinenza that has been sold throughout May.
Despite the recent high temperatures in Spain, we have seen good quality fruit, even though there have been challenges for the growers there, with higher volumes of small fruit than were hoped for.
June will see a full crop of Spanish fruit with good volumes leading to promotional opportunities, and this will provide a solid base for sales before we move north in our sourcing.
Tricky spring
Meanwhile, the British crop has endured a tricky spring with high rainfall and mild temperatures throughout blossom and early cell division. The north-easterly winds have been dominant over Kent once again over the last few months, leading to cooler temperatures and overcast skies. This is very reminiscent of two years ago.
Despite this, we have set a decent crop with the majority of growers reporting good volumes across most varieties. There have been a few casualties, with some growers reporting heavy drop in Kordia, while others are thinning their Sweethearts. With a spring like this we can expect regional variations in fruit set and ultimately fruit quality.
The management of fruit quality across the UK is much better than a decade ago. The advent of optical sorting has been a game-changer in this respect. 2022 saw a dry year where the sorters were less necessary due to such a clean crop, other than for size and colour.
This year will almost certainly be more challenging with the spring and early summer we have had. The sorters will do their job and produce a clean box of fruit for customers to enjoy, and in this respect Norton Folgate is leading the way, now in its seventh season with its eight-lane Unitec optical sorter.
New varieties
The development of new varieties across the UK is also entering an exciting phase, with new plantings of Stoppel varieties in various parts of the country offering both very early and late alternatives to traditional material.
We are also seeing an increased tonnage of the early Sweet Aryana coming into production, reducing the volumes of Merchant that have been so variable for many decades.
From a market perspective, the usual questions prevail after two difficult seasons for UK growers. Will the market respond to the growers need for increased prices due to inflation of inputs? Will the market value larger sizes of fruit that were a challenge in 2022? It is too early to predict the outcome of what is a notoriously volatile crop to price.
What is for sure is that there will be good availabilities of nice-quality British cherries throughout July and August, despite a potentially slightly later start after the slow spring we have had.
Norton will continue to develop its export markets across Europe, Southern Africa, Middle East and Asia as we maintain our 25 per cent split in volume for export. The balance of the fruit will be sold in the UK across the high street to a wide range of customers.