The nectarines, which have an attractive red flesh and skin, will be available from this week
Spanish stonefruit and berry specialist Royal created a new segment in the stonefruit category with the launch of the first line of sanguine blood nectarines.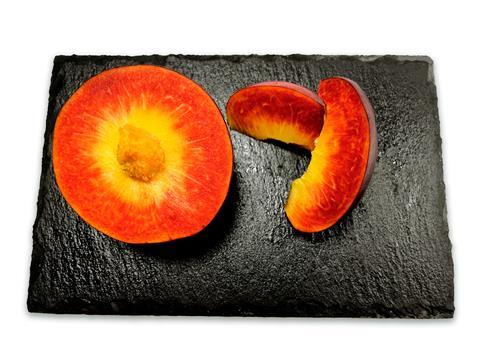 The fruit, which will be marketed under the brand name Royal Sanguine, is characterised by its deep red flesh and skin, and intense flavour.
We are confident that our Royal Sanguine will exceed the expectations of our customer who are always looking for something new and exciting," the company said.
"Royal Sanguine will not disappoint the most demanding palates or those who are looking for that sensitive point of acidity that turns the taste into something sublime and indescribable."
Royal has been a pioneer in the research and development of new stonefruit and berry varieties for more than 30 years, particularly in the early season window.
The first fruit is due to arrive in the European and UK markets this week.
The company also revealed that its exclusive plum varieties of Pluot and Metis will be available from the end of May. It is due to harvest more than 8,000 tonnes of the plums between May and November.
Royal said although it had been a challenging year climatically, it had not experienced any quality issues or reduction in volume.
"As we reach our peak season, demand at the moment is very strong for the Royal brand of peaches and nectarines across Europe, the UK and other parts of world, which reinforces our reputation as the leading early season grower," the company said.
Separately, Royal announced the appointment of Shazad Rehman to its UK headquarters. "We are confident that the presence of a permanent member within our team in the UK will help us to further develop our customer relationships and to help communicate our points of difference and leading standard innovation in a much more dynamic way," Royal said.