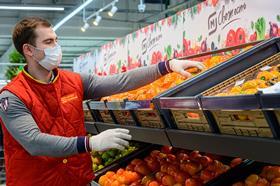 Russia remains a major buyer of fresh fruit and vegetables from around the world, but the response to its invasion of Ukraine could leave it unable to import as much as before.
Gabriel Bérard is the founder of Bksas, a Russia-based trade agency which handles sales and deliveries on behalf of international fresh produce exporters to the country. It specialises in direct deliveries to supermarkets in the western part of Russia, specifically Moscow, Novorossiysk, and Saint Petersburg.
Gabriel, what is the situation right now in Russia when it comes to imported fruit and vegetables?
Gabriel Bérard: In a nutshell, the western part of Russia is emptying of deep-sea imports. In Moscow today, local buyers can find plenty of fruits from Iran – oranges, kiwifruit, apples, tomatoes, cauliflower. In Novorossiysk, coldstores are filled to capacity with Egyptian potatoes, onions and oranges, as importers speculate on the huge looming price surge across the country. But in Saint Petersburg, where my office is located, we can see empty coldstores and stocks of exotics are almost sold out. It feels very strange.
Which particular exotic products will disappear?
GB: Basically, all fruits from Latin America and Africa are already in deficit in the western part of Russia, starting with bananas. Banana is the biggest category, it's a commodity here, and every Russian eats something like 12 kilos of bananas per head per year.
Can you tell me about some of the clients who you represent and how this affects them?
GB: Of course. The problem first of all is the logistics. Leading shipping lines stopped accepting new bookings into the Russian ports of the Black and Baltic Seas. For instance, Morocco: we represent a cooperative who exports mandarins from Agadir to Saint Petersburg. They are now in the Nadorcott export season, but shipping lines have cancelled all bookings and stopped calling at Agadir. It's a similar situation with our partners from India, Kenya, South Africa, Latin America. We don't know how long it's going to last, but the only sea route into western Russia right now is from the East Mediterranean.
Who ran those services from Morocco?
GB: From Agadir to St Petersburg, this season you had MSC and CMA-CGM, with Maersk as a slot buyer on the latter. They stopped, so we can't ship.
But if you have citrus in Egypt and you want to sell it in Russia at the moment, can you do so?
GB: You can ship from Egypt, from Israel, and from Turkey. MSC, Seago Line, and Arkas are accepting bookings from East Med ports into the Black Sea. In the very, very short term, we plan to use Istanbul as a pivot point for deliveries from the India ocean; avocado containers from Kenya on Maersk Line will be unloaded at Ambarli Marport, and pallets will be forwarded into Russia by trailer.
What about the payments side of things, is that now taken without insurance?
GB: International credit insurance coverage of Russia is gone. Payment facilities are given solely at the shipper's risk. For instance, exporters who keep shipping to Russian supermarkets continue to do it on credit. The only change is that supermarkets accept shorter payment terms and easier quality requirements.
Gabriel, in practice, what do the supermarkets have in their financial toolkit? Do they have hedged foreign currency?
GB: Leading Russian supermarkets have hedged their exposure to the dollar, yes. They also have a solid financial model – their logistic infrastructure within Russia is largely vertically integrated into a network of stores that sell directly to consumers, so they have cash available and limited exposure to inflation. They still get support from both international and domestic banks, and they work strictly according to official delivery contracts.
So to be clear, if the supermarkets can manage payments through an external bank, then a shipper in South Africa, for example, can be paid from outside Russia?
GB: Russian supermarkets continue to pay from Russia. Most national banks are still connected to the international banking system; only a handful have been excluded from SWIFT. The supermarkets pay from Russian banks that are not under western sanctions, so Sberbank (the biggest Russian state bank), HSBC Russia, Rosbank (a subsidiary of French group Société Générale), or Alpha Bank, an independent Russian commercial bank. International payments are being made by SWIFT. We see that leading Russian supermarkets continue to pay their international suppliers even now.
What will the implications be for suppliers like Turkey, Morocco and South Africa?
GB: Everything is going too fast. We are still busy completing deep-sea deliveries that were loaded in early February. Exporters from Turkey and Egypt, who are highly dependent on Russia as an export market, continue to supply their Russian partners. Some in Morocco and South Africa who already know Russia will probably resume as soon as shipping lines accept bookings again. The main question is consumer demand: will Russia continue to import as much fresh fruit as before?