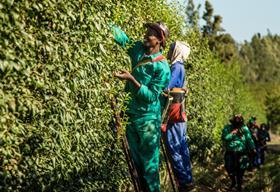 As South Africa's stonefruit season arrives once again, the industry continues to ensure sustainable production by focusing on initiatives such as environmental audits, social and wellbeing transformation projects, and maintaining high food standards for export.
The country's agricultural industry works alongside the Sustainability Initiative of South Africa (Siza), which enables the sector to be a global leader ensuring sustainable, ethical trade and environmental stewardship.
By 2021, 60 stonefruit growers will have participated in Siza's environmental audit programme that aims to improve their sustainability as producers.
Many farms have implemented best-practices such as measuring their water-use efficiencies, using satellite imagery to improve water management, implementing biological and organic farming practices, calculating their carbon footprints and making use of solar panels as an alternative energy resource.
As well as adhereing to international safety standards, farmers also have to comply with the more comprehensive and specific private and commercial standards that ensure an ongoing supply of safe, quality fruit for export markets.
"The South African stonefruit growers, packers and exporters remain committed to supplying consumers with excellent quality and great tasting products,' said Jacques du Preez, Hortgro's general manager for trade and markets. 'The industry is confident that the logistical challenges experienced during the past year due to Covid-19 is something of the past and is looking forward to a great season."
The South African government is also encouraging female growers to succeed in the agricultural sector.
In August, Thoko Didiza, the South African minister of agriculture, land reform and rural development, said: "We have to build a network of women in agriculture, to work shoulder to shoulder and to unlock potential.
'Especially small-scale farmers have the potential to grow the economy faster by bringing jobs to rural areas and thereby improving the living conditions for young people."
The private land reform and development initiative Partners in Agri Land Solutions (PALS), has appointed a new female Chairperson for 2020, Lien Visagie.
PALS was established by fruit farmers with economic growth, job creation and social harmony as its principle goals.
The organisation is working to ensure the establishment of successful black farmers as owners of the land: it involves the whole community in an inclusive process, and also provides mentorship and training programmes.
"Farming people need to get into the circle of ownership with new opportunities, planning and empowerment,' said Visage. 'The more people sharing in the value chain, the better it will be for the land's economy. The management of PALS is dedicated to make transformation in agriculture happen."
The ongoing Beautiful Country, Beautiful Fruit marketing campaign to promote South African stonefruit to the UK market, has launched the new season through activities such as consumer and trade PR and social media to encourage healthy eating and recipe creation during the isolation period.
The new year will kick off with in-store and online promotions across the majority of UK retailers.