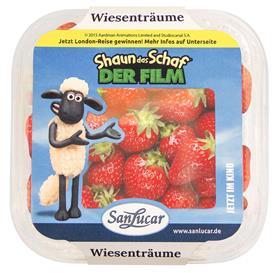 German fresh produce marketer SanLucar has followed up its recent promotional tie-in with the animated film Paddington by launching a new line of strawberries bearing an image of Shaun the Sheep, another animated character due to appear in his own film later this month.
The special strawberry packs went on sale last week in Germany and Austria, with consumers being encouraged to cut out the image of Shaun before mailing it with their contact details to SanLucar. One lucky entrant will win a trip to London, while 30 others will receive a special Shaun the Sheep Movie packs.
Meanwhile, fast food restaurant chain McDonald's is also making the most of public interest in the new film, with its new television advert offering anyone purchasing a Happy Meal a free bag of carrot sticks alongside the customary film-related plastic toy.
Shaun the Sheep is no stranger to the McDonald's marketing department: three years ago, restaurants across Europe featured a new range of toys championed by the character and designed to encourage kids to have 'fun with food'.