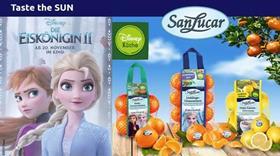 SanLucar has once again teamed up with Disney for its latest promotion to mark the release of the movie Frozen 2.
The campaign, which gets underway on 11 November and will run in Germany and Austria, will see Snow Queen Elsa appear alongside her friends on packs of mandarins, lemons, oranges and persimmons. Consumers will also have the chance to win a trip to Spain for four people.
"Citrus fruits are especially important in the cold season. With pictures of Elsa and her friends on our products, we will certainly whet the appetite for fresh fruit among kids and grown-ups", said Nuria Pizán, SanLucar's brand and creative director.
"We have been committed to a balanced diet for children for years, because we believe that the basis for a healthy nutrition is developed at a young age".
As well as providing customers with signs, displays and sales folders and other promotional materials, the campaign will be supported by social media activities.