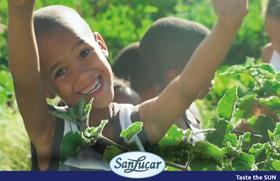 SanLucar is to publish a new publication setting out its corporate and social responsibility initiatives at next week's Fruit Logistica in Berlin.
The publication, Dreams Magazine, will provide an insight into the company's the social and environmental projects, which benefit communities in countries such as Germany, Austria, Spain, South Africa, Tunisia, Ecuador, and Costa Rica.
"From the outset, we always had the dream of growing fruit and vegetables in a way that we can be proud of. Until today, our corporate philosophy – 'Taste in harmony with people and nature' guides all our actions", said Jennifer Heer, SanLucar's communication and corporate responsibility director.
One of SanLucar's achievements over the last two years was the opening of El Puchero Portuario soup kitchen, the second that the company manages alongside the Coordinadora Solidaria association in Valencia.
It serves 8,000 meals per month to people with low incomes and their families, while at the same time helping them to reintegrate into the working environment.
In Ecuador, meanwhile, SanLucar helps to promote an active lifestyle among young people with its sports school Dreams, where 400 children from the municipality of Puebloviejo train regularly in basketball and football, completely free of charge.
In Tunisia, where the company has been present for more than ten years, SanLucar received the National prize for social progress granted by the president of the country in 2018.
Other initiatives include the creation of Träume werden wahr e.V in South Africa, which has set up an addiction prevention programme as well as a permaculture garden to promote a healthier lifestyle among the local community.
In the environmental arena, SanLucar has reduced water consumption in drought-affected areas of South Africa through special irrigation methods. In Tunisia, the company has succeeded in processing and reusing around 30 per cent of the drainage irrigation water using environmentally friendly technologies that avoid the use of chemicals.
The Dreams Magazine will be available to visitors at SanLucar's stand in Fruit Logistica or can be downloaded from the company's website.
SanLucar has also announced plans to publish its progress report of the Global Compact in the summer of 2020. Thereby, the company will inform about its measures to implement the 10 principles of the Global Compact as well as its contribution to the achievement of the Sustainable Development Goals (SDGs). This report is prepared following the criteria established by the Global Reporting Initiative (GRI) standards.