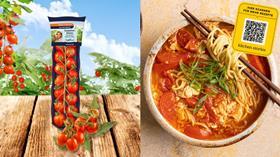 SanLucar has launched a new tomato promotion in Germany. From next month, consumers will be able to access a series of recipes from the premium brand on the Kitchen Stories Kitchen Stories digital, video-based cooking platform.
"It is our vision to bring people natural joy of life and health. And the best way to do so, is to cook something delicious yourself using as ingredient our intensely flavourful tomatoes. The result just tastes twice as good!' said Nuria Pizán, brand and creative director at SanLucar.
To support the campaign, the company will provide German retailers with eye-catching display stands, display plugs, and recipe folders.
It will be accompanied by postings on Facebook, Instagram, and Pinterest as well as a blog article on the SanLucar website.
At the same time, the cooking platform Kitchen Stories will promote in Germany SanLucar tomatoes on its various channels (website, app, social media, newsletter) in the form of an informative article and five diverse, selected recipes with fresh tomatoes.
SanLucar will also offer the chance to win a trip for four people to a German master grower, including travel and hotel, as well as five copies of the 'Anyone can cook!' cookbook from Kitchen Stories.
Kitchen Stories is a cooking-based digital platform, available as an app, website, on smart TVs or via Amazon Echo Show. More than 5m people use the every month, and more than 25m people are inspired through the social media channels by the platform, which was founded in 2013 in Berlin.