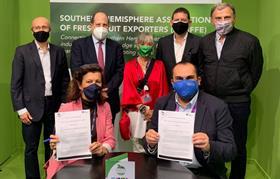 The Southern Hemisphere Association of Fresh Fruit Exporters (SHAFFE) has signed a long-term collaboration agreement with Fruit Attraction, with the aim to strengthen the ties between the Southern Hemisphere countries and the European markets.
"Fruit Attraction has always been a great gateway to Spain and Europe for Southern Hemisphere countries, and we are more than happy to finally be back to the show", said SHAFFE president Charif Christian Carvajal after the signature.
"This agreement underlines our commitment to return and share insightful and relevant information with an exclusive audience."
Fruit Attraction has been an important annual meeting place for SHAFFE members over the past years and this edition of the fair was particularly valuable, as it reconnected many Southern Hemisphere traders with their European counterparts after a long break.
"At this year's show, we have been taking the initiative to talk for the first time publicly about our process to bring together all eight Southern Hemisphere countries views on sustainability in the fruit sector during our conference 'How a sustainable fruit sector could look like in 2030'," said SHAFFE secretary general Nelli Hajdu.
"This shows, which valuable platform Fruit Attraction provides to exchange about relevant topics and Fruit Attraction has supported us in the setting up along the way."
As a regular guest at the trade show, the association said it was convinced by the value of the show for connecting Southern Hemisphere and Europe.
The Southern Hemisphere Perspectives Forum, which kicked off this year with a sustainability session, will annually share valuable insights on the market evolution, market challenges and opportunities and seeks to build the dialogue with the European sector.
The MOU was the first agreement signed by Maria José Sanchez in her new role as director for Fruit Attraction.