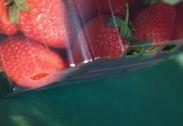 Sharp Interpack displayed its new SPS 'Air' packaging range for the first time at Fruit Logistica 2010 in Berlin this month, a revolutionary soft fruit punnet that 'breathes longer life into products', according to the group.
The new punnet offer significant air flow improvements compared with conventional punnets, Sharpak said, with the base allowing for superior transpiration through lateral vents allowing the fruit to breathe more easily, therefore aiding conservation.
Sloping vents allow for unimpeded air flow even when punnets are stacked, while there remains no risk of debris entering the tray from punched holes.
'The idea flows from the will to see fruit when bought as fresh as the day it was harvested and still keeping fresh for as long as possible once purchased and refrigerated at home,' the group said in a statement.