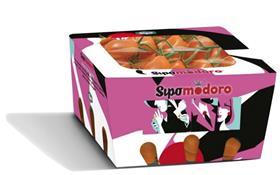 Italian company Sipo has launched Sipomodoro, a branded range of smaller tomatoes that it says represent the latest generation of 'irresistible' varieties.
At a special launch event held in Rimini on Emilia-Romagna's Adriatic coast, the group unveiled the new collection in the presence of customers, commercial partners, local officials and the press.
The move marks Sipo's first foray into the tomato business.
"We're presenting a new line of tomatoes, which is a high-value product but also one that is difficult to sell," commented general manager Massimiliano Ceccharini. "That's because really in Italy it is handled only by the large multinationals."
However, Ceccharini said, the company was confident that its traditional strategy of selling top-quality niche products grown in the most suitable regions of Italy would also favour strong demand for the new range.
The range itself consists of eight individual varieties, grouped into four pairs.
"We decided to identify them using the names of famous artists," explained Francesca De Francesco of Sipo's commercial department. "We have il Boterino (little Botero), il Giottino (little Giotto), il Picassino (little Picasso) and il Boldino (little Arcimboldo)."
The Boterino tomatoes are one red and one maroon cherry variety. Giottino is the name for two cherry tomatoes; one red, one yellow.
Picassino, meanwhile, comprises maroon and red, striped ovalino types. And Boldino represents one yellow and one orange datterini type.
"These are products aimed mainly at the supermarkets in Italy, and the gourmet catering channel primarily abroad," De Francesco added.