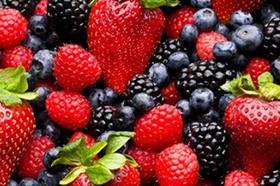 Rabobank, the Dutch multinational banking and financial services company, has made public a report highlighting the potential of the European market for berries.
The highlights of the report, entitled 'Burgeoning & Blossoming: The Bar is Raised in the Promising EU Berry Market', were first outlined by Rabobank fruit and vegetable analyst Cindy van Rijswick at the Global Berry Congress, which took place in Rotterdam on 14-16 March.
According to Rabobank, 'the sky seems to be the limit' for the continent's berry sector, with Rabobank forecasting growth in European consumption volumes to mirror the success of the fruit in the US, where berries have become the highest-value fresh produce category at retail stores at over US$5.6bn.
Fresh blueberry, raspberry and blackberry consumption is expected to grow by at least 7 per cent a year in the coming five years, the group noted, while strawberry consumption could grow by nearly 2 per cent a year – outpacing what Rabobank described as the 'sluggish' total fresh fruit consumption volume in the EU.
The EU's leading food retailers require a complete year-round fresh range of consistently high-quality fruits and, Rabobank noted, sizeable, efficient, semi-integrated players are best-positioned to deliver this.
"Ongoing investments in new varieties and sustainable efficient production methods are also indispensable when it comes to reaping the fruits of the burgeoning berry market," added van Rijswick. "Better availability, increased promotion of berries, quality improvements and supply chain efficiencies, resulting in lower retail prices, could also help further propel the demand for fresh berries in the EU."
By category, strawberries are the most mature market with sector changing from a fragmented local, seasonal business towards a more capital-intensive sector with extended seasons and enhanced quality, Rabobank outlined.
Year-round demand for high-quality blueberries is growing particularly fast, driving both imports from different production regions in the world and local production in the EU, with the sector as a whole 'on a journey towards larger, more efficient customer-focused players'.
Rabobank said that the successful introduction of new varieties and better planting materials are major game-changers for the EU raspberry and blackberry industries, with a more integrated and year-round approach to growing and sourcing sweeter, larger and firmer varieties helping to revive the sectors.
Click here to download Cindy van Rijswick's presentation from the Global Berry Congress.