The company is planning an extensive point-of-sale campaign with retail partners alongside sponsorship of championship
SanLucar has become an official sponsor of the 2022 European Basketball Championship, officially known as the EuroBasket, which takes place in Cologne and Berlin from 1-18 September.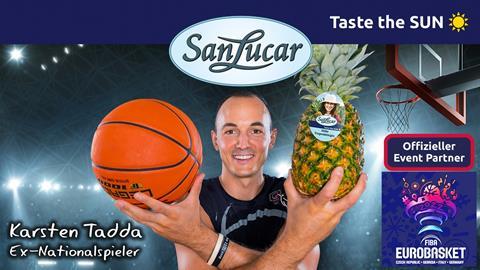 CEO Armin Rehberg commented: "We are hugely excited about our new cooperation with EuroBasket. Sport at this level can only work if the nutrition is also perfectly matched. We know what's good for top athletes is good for everyone: lots of fresh and great fruit and vegetables."
As part of the promotion, SanLucar is offering the chance to win ten tickets for the EuroBasket in a prize draw on Instagram.
Parallel to the sporting event, the company is launching a point-of-sale campaign with its retail partners with display stands, top signs, posters, and flyers.
"The aim is to make the events in Cologne and Berlin an experience for as many people as possible. Emotional, exciting and with the best taste," said Rehberg.
SanLucar's brand will feature on LED boards around the basketball court during matches. A total of 24 teams from Germany, Italy, Georgia, and the Czech Republic will compete against each other during the tournament.
"This will be a great event that will allow us to reach new target groups together with our retail partners," Rehberg continued.
"With this visibility, we are underlining the importance of our brand, especially in the current challenging times. We simply want to do something and act."
SanLucar will also provide healthy snacks, including fruit, smoothies, fresh-cut and its new vegan ice cream during the matches.