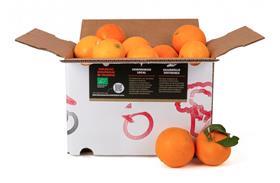 Oxfam Intermón, the Spanish arm of global charity Oxfam, has expanded a scheme selling organic citrus to consumers throughout Spain via the internet to include mandarins.
Since launching the initiative last November, the NGO has sold more than 1,700kg of organic oranges and describes the scheme as "a huge success".
The fruit is sourced from small producers in the Valencia region associated with agricultural union La Unió de Llauradors.
Paco Juan, Oxfam Intermón's head of fair trade, said the initiative offers a viable way of supporting small fair trade producers.
"This is a way of keeping the rural economy alive, of distributing wealth and helping to preserve the environment," he told EFE.
A proportion of the price paid goes to the NGO Llauradors Solidaris, which trains and advises people at risk of social exclusion to help them find jobs in the agricultural sector.
Oxfam said it planned to add new agricultural products to the scheme in order to help more farmers to work in "fair and dignified" conditions.