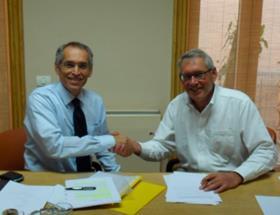 UK-based breeding and licensing specialist Special New Fruit Licensing (SNFL) has announced new exclusive master licensing agreements with Egyptian grower Magrabi Agriculture for new Sheehan Genetics seedless table grape varieties.
Over the past 15 years, SNFL's portfolio of new varieties have been bred and developed in California, where SNFL owns Sheehan Genetics.
Duncan Macintyre, SNFL's managing director, stressed the need for new varieties to excite consumers and assist growers.
'Growers, too, need better varieties,' he said. 'They need varieties that are easier to grow and pack, with less labour and chemical inputs.'
Magrabi Agriculture has established commercial plantings of several new Sheehan varieties, including Timpson and Magenta, and has many more in trial.
Magrabi and its growers reportedly expect to plant over 200ha of Sheehan varieties over the next three years.