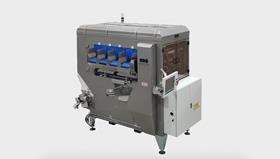 Italian packaging and technology leader Sorma Group premiered its new WD4-S weighing machine at this year's Macfrut in Rimini.
According to Sorma, the machine is compact and efficient, and is distinguished by its internal feeder belts, which save space and allow it be positioned in any warehouse.
However, its small size does not reduce its efficiency, with the WD4-S Feeding up to four packaging machines, the group noted.
'In addition to being adaptable and compact, the WD4-S also stands out for its adopted technology, which guarantees speed and precision,' Sorma stated. 'Thanks to latest-generation, industry 4.0 software that operates electronically, fruit is very accurately weighed. Moreover, unlike other weighing machines on the market, this parameter does not vary with increased speed, making it possible to weigh up to 70 packs per minute.'
The WD4-S is specially designed for citrus, but is also suitable for kiwifruit and avocados, offering 'equally high performance with both large and small fruits' (from 40mm to 110mm) thanks to a self-adaptive size recognition system.
"We are very satisfied with the new WD4-S weighing machine," confirmed Andrea Mercadini, CEO of Sorma Group, "because it addresses concrete needs emerging from discussions between Sorma and users.
'We have created an innovative and technologically sophisticated machine that can be adapted to any packaging line,' Mercadini added. 'Thanks to its unique performance and features, we have already managed to sell the first 25 units."