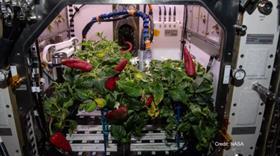 NASA astronauts aboard the International Space Station have successfully harvested their second crop of chilli peppers.
According to the space agency, the chilli peppers, grown on the as part of its PH-04 experiment, have set two world records – the first one is for feeding the most number of astronauts with a crop grown in space, and the second for the longest experiment in space. The experiment lasted 137 days from the day the seeds were planted on 12 July to the day they were harvested on 26 November.
The first crop of chillies were served up by the ISS crew at a taco party in October.
Chillies were chosen because they are high in vitamin C, do not need extensive processing, and are spicy. Living in microgravity for prolonged periods affects astronauts' sense of smell and taste.
Aside from chillies, astronauts have also harvested several vegetables on the ISS, including lettuce, Chinese cabbage, mizuna mustard, red Russian kale, zinnia flowers and more.
Growing fresh produce in space could provide essential nutrition for astronauts on long-distance missions in future.