Three-year campaign will focus on the sustainability and quality of almonds from the Iberian Peninsula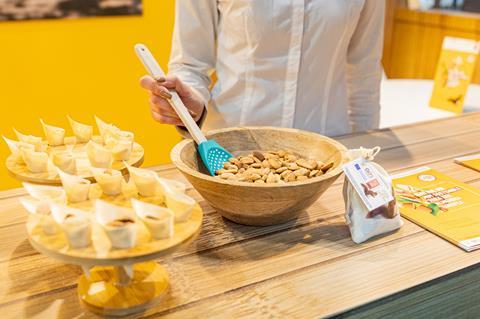 Spain and Portugal have joined forces to launch the first-ever joint almond marketing campaign.
The three-year campaign, co-financed by the European Union and the industry associations in both countries: SAB-Almendrave and Centro Nacional de Competências dos Frutos Secos (CNCFS), will highlight the quality and sustainability of almonds grown in the Iberian Peninsula.
It will run across four countries: Germany, a major manufacturing centre for almond chocolates; France, Europe's biggest consumer of almond flour; and Portugal and Spain, both among the top global producers of this product and where per capita consumption is among the highest in the world.
At the official launch of the campaign, which took place within the auspices of the VIII Almond and Hazelnut meeting at the Casino Primitivo de Albacete on Thursday, SAB-Almendrave president Pere Ferré and his Portuguese counterpart, Albino Bento, highlighted the sustainability and quality of Iberian-grown almonds.
"The European almond is the perfect example of low-impact agriculture. It is produced using responsibly sourced water, thanks to the fact that 85 per cent of farms are rain-fed, and those that are irrigated increasingly opt for irrigation on demand," Ferré said.
"Moreover, the almost 800,000ha of almond trees planted on the Peninsula capture a huge amount of carbon, making a decisive contribution to combating climate change, in addition to acting as a natural firebreak and tool against soil erosion."
During the launch, attendees were shown the campaign's new advert and a quality seal identifying the almonds as an Iberian product. SAB-Almendrave and CNCFS highlighted the important role that almonds play in the fight against the abandonment of rural communities, since their cultivation can help maintain these populations and distribute wealth in a more balanced way throughout the peninsula.
"This dried fruit has the potential to become an Iberian icon," Bento noted. "That is why we have decided to collaborate on both sides of the border, joining efforts to raise awareness among the public and, above all, professionals in the sector, of the quality and sustainability that distinguishes the almond with this origin."
Set up in 1947 to coordinate and promote almond and hazelnut production in Spain, SAB-Almendrave represents 68 per cent of the country's exports. CNCFS is a non-profit bringing together more than 50 producers of almonds, chestnuts, walnuts, hazelnuts carob and pistachios with the aim of promoting the development of the sector through innovation and knowledge sharing.