Sharp prices increases not enough to compensate for drop in volume and high input costs, growers say
Producers in southern Spain are struggling to fulfil their supermarket programmes due to supply shortages caused by unseasonal weather.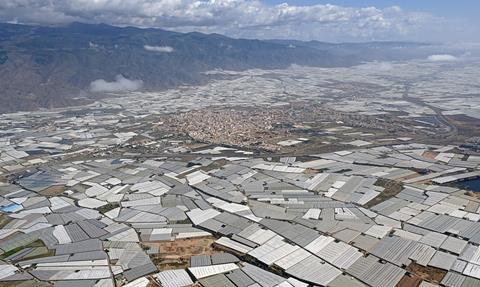 The high temperatures recorded this winter, followed by a prolonged cold snap, have resulted in a sharp drop in production, especially in Almería.
According to Fepex, tomato volumes are down by 22 per cent in the first five weeks of 2023 compared to the year-earlier period, while cucumbers are 21 per cent lower and peppers and aubergine volumes have fallen by 25 per cent. Almería accounts for 40 per cent of Spain's vegetable exports.
The Association of Fruit and Vegetable Producer Organisations of Almería (Coexphal) said the situation is "concerning" as the shortages are being replicated in other European production zones.
Coexphal's manager, Luis Miguel Fernández, commented: "we did not expect a scenario like this because we had high temperatures right up until December, which also accelerated production in the first part of this campaign".
Although all greenhouse-grown vegetables are down, farmers say the high prices caused by tight supply do not compensate for the loss of volume and high input costs.
Coexphal notes that the high temperatures – which has also led to the proliferation of pests – together with cost inflation and the fallout from the conflict in Ukraine are creating an increasingly uncertain outlook that is damaging for Spain's agricultural sector.
Thanks to its geographical location and the ability to produce huge quantities of produce in plastic greenhouses without the need for heating, Almería is the main supplier of vegetables to European retailers during the winter months.
However, Fernández warned that with customers forced to look elsewhere to fill produce aisles, the situation could negatively impact Spain's horticultural sector in the longer term.