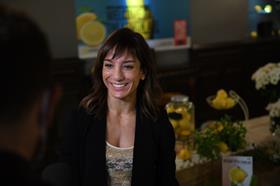 As the sporting world prepares to descend on Tokyo for next month's Olympic Games, Ailimpo has recruited two Spanish Olympians in the latest stage of its Welcome to the Lemonage marketing campaign.
Both canoeist Saul Craviotto – who is chasing his fifth Olympic medal and will be one of Spain's flag bearers in Tokyo – and karate champion Sandra Sánchez say lemons play an integral role in their preparation for the games by helping them to maintain a healthy and balanced diet.
"I consume lemons practically every day. In the morning, I always have a citrus juice, including lemon and grapefruit. It is a vitamin C pump that is essential for athletes because it helps reduce tiredness and fatigue," Craviotto said.
Sanchez, who hopes to secure a gold medal in Tokyo, explained: "My coach always tells me to season meat or fish with lemon. It is important for everyone, but especially for women because lemon is a source of vitamin C that improves iron absorption".
Ailimpo said the versatility of lemons made it easy for consumers to incorporate them into their daily diet.
"Lemons produced under the European model have a high content of vitamin C. They are a natural product, without fat, without salt or sodium and with low sugar content, making them an ideal food to include in the Mediterranean Diet, one of the healthiest in the world according to the World Health Organization (WHO)," Ailimpo said.
"Spain, the leading European producer of lemons, is also an exporter of great champions. Winners of gold medals in Olympic and World Games thanks to their sacrifice, effort, dedication and… healthy, active and healthy lifestyle."