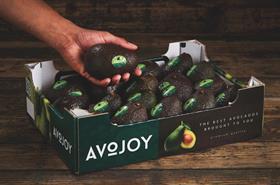 When Carel van Krimpen launched Your Avojoy, a service delivering premium, custom-ripened Hass avocados straight to the door of Benelux consumers at the end of last year, his objectives were clear.
"First and foremost we wanted consumers to be able to enjoy the same, high quality avocados that they'd get in their favourite sushi restaurant at home, delivered at the exact point of ripeness that they required," he told Fruitnet.
"At the same time, we knew this was a great way of getting the Avojoy brand name – and all the know-how that stands behind it – directly in front of consumers. It was part of the game plan."
A year earlier van Krimpen, who also runs De Lier-based produce wholesale company Greenpoint Trading, had set up Avojoy to supply premium avocados to the foodservice industry.
"From the outset, our focus was on quality, that's why we source exclusively from Westfalia and have teamed up with packaging and ripening specialist Euro West to ensure that we supplied only the best fruit in optimal condition," he explained.
"The response from the market was very positive and so when Covid and the subsequent lockdowns arrived we thought 'what better way to put all the expertise we have acquired to good use than to deliver straight to the consumer?'. That way the avocados arrive fresher, they haven't been handled by customers in-store, and the fruit is ripened to order."
The avocados come in threes in a specially designed, 100 per cent biodegradable 'avo box', which protects the fruit during transportation and can be stored in the fridge. They're available in three formats: the starter (6 avocados), master (9 avocados) and family box (12 avocados).
You can even send them as a gift, complete with a card, recipe suggestions and a QR code linking to a website explaining how to store the avocados and dispose of the packaging. And the company works with a reliable carrier to guarantee next-day delivery.
Having proved the concept works, van Krimpen is now ready to take the business to the next level by partnering with specialist online retailers so that customers can make Avojoy avocados part of their regular shop.
"It's a win-win situation," he said. "Avocados are hugely popular, but there are still problems with the quality and consistency of supermarket-bought fruit, both because it is handled and squeezed by customers and because ripening levels vary. We guarantee a custom-ripened premium product every time."
With the Avojoy foodservice business now extending its customer base into Denmark and Germany, van Krimpen sees no reason why the Your Avojoy concept cannot be similarly expanded into other countries.
"We welcome partners who want to work with us to build the Avojoy brand, whether they're online retailers, specialist fruit and veg stores or foodservice companies," he said.