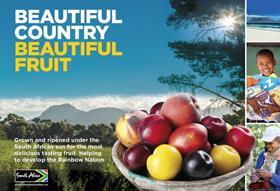 Promotional activity for the South African stonefruit industry is underway in the UK, with growers optimistic about the season ahead.
The 2018/19 season brought many challenges after last year's drought caused damage to early crops, which impacted fruit size, quality and volume. This year, however, is set to see an improvement in all aspects.
Hortgro, the organisation which represents South Africa's stone and topfruit industries, has said that it will continue to develop the plum, peach, nectarine, apple and pear categories in the UK through its integrated marketing initiative, which has now been running for 11 years.
"The Beautiful, Country, Beautiful Fruit campaign is an essential vehicle for growing the South African fruit market in the UK and engaging with stakeholders throughout the supply chain,' said André Smit, Hortgro stone chairman. 'We were faced with many challenges during the previous season, but the stonefruit industry is looking forward to the 2019/20 season and remains committed to supplying consumers with good quality and great tasting products."
Collaboration with retailers will be one of the main focuses during this year's campaign, which will include in-store promotions, advertising and editorial online and in retailer magazines, head office sampling and social media activity.
South African stonefruit and topfruit will be supported by other activities, including recipe styling and photography, consumer and trade editorial and advertising, social media, recipes videos and media gift boxes.
South African Young Chef of the Year and Help a South African School will continue to run this season.
Young chefs under 25 will be invited to submit a main course recipe, using two South African stonefruits, before a panel of judges selects six finalists to go through to a cook-off final at Westminster Kingsway College.
Judges will choose a winner, who'll fly out to South Africa for a week's stage with award-winning restaurants, Reuben's and La Petite Colombe.
The schools project encourages UK primary schools to donate unwanted reading and language books to deprived children in South Africa.
A competition will also run alongside the donation initiative, which invites UK primary classes to submit a piece of art, which will depict how they like to eat South African fruit.
The initial export crop estimate projects an increase in volumes compared to the previous season.
Nectarines are expected to increase from last year's 4m cartons to almost 4.7m cartons (2.5kg), peaches can expect a 6 per cent increase to 1.9m cartons, and plum growers anticipate an increase of 15 per cent compared to last season, to 10.1m cartons.
At this stage, the increased volumes are mainly driven by young orchards coming into production and producers having more available irrigation water.