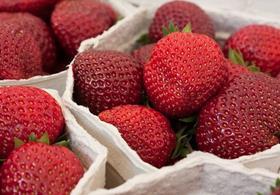 Strawberry prices on the German market strengthened notably during late March as supplies from the Mediterranean began to dry up and demand improved during a spell of good weather.
According to market analyst AMI, a glut of strawberry supply earlier last month had all but disappeared by the end of March.
In Spain and Morocco, which traditionally supply the Germany market in the run-up to Easter, the group described availability of the fruit as 'less than plentiful', with production in the key Spanish supply region of Murcia understood to be approaching its peak.
So far, around one-third of the Murcian strawberry crop has been harvested, and the expectation is that continued sunny weather in Germany could lead to a further increase in demand and, as a result, higher prices in the market.
'In week 13, retail sales prices for grocery items were already €0.30-€0.40 per kilo higher than in the same period of last year,' a spokesperson for AMI commented.