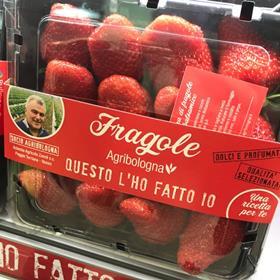 The coronavirus crisis might have seen demand rise considerably for certain fresh fruit and vegetable lines, but it appears to be having a terrible impact on Europe's strawberry producers as consumers gravitate towards less perishable items.
As a result, producers are reporting a dramatic fall in demand that comes at the worst possible time–coinciding as it does with the start of peak season across much of the Mediterranean region.
'It's a disaster,' Bruno Barcella, director of Milan-based trader Salvi Milano, told Italiafruit. 'Prices are still falling. It looks like there has been a decline in consumption perhaps because, at this difficult time, families don't see [strawberries] as essentials and prefer to buy citrus, apples, pears and kiwifruit.'
Making the situation worse, Barcella confirmed, was a marked increase in the volume of fruit available. 'The main production areas of south Italy have come into full production, but so too have Spain and Greece. The result is that we're seeing the trade half destroyed on all European markets, without exception.
In the Spanish region of Huelva too, strawberry growers are reportedly struggling to cope with a severe downturn in demand.
The situation has apparently been made even worse by the closure of Spain's border with Morocco, preventing an estimated two-thirds of seasonal workers entering the country to harvest fruit.
Freshuelva manager Rafael Domínguez commented: 'We will be watching closely to see how long the border is closed. This comes at a very delicate and problematic time when a lot of fruits come into production; strawberries are at their peak, and blueberries, raspberries and blackberries are about to begin.'
Speaking to local website Viva Huelva, he said strawberry consumption on the domestic market had taken a notable hit as consumers gravitated towards products with longer shelflife.
'Everything points to [this trend] growing as the confinement continues,' he added.
In Greece too, the situation is critical. In southern Crete, the Mayor of Gortyn Lefteris Kokolakis said a large number of seasonal producers including strawberry growers had suffered 'enormous economic damage' as a result of emergency measures taken to limit the spread of coronavirus.
'In addition to the difficulties and constraints that producers face on a daily basis in trying to produce and market their products, sales of strawberries have almost disappeared in recent weeks, as strawberries are delicate products and consumers cannot keep them for several days,' he said.
'Huge amounts of strawberries end up literally in the bin every day, affecting the producers' family income.'